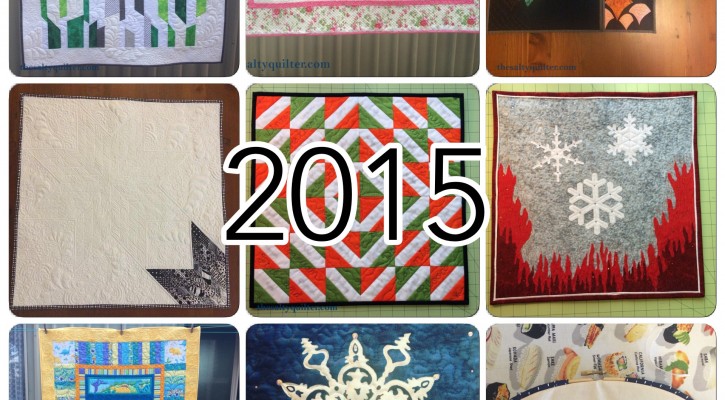 2015 Year In Review – Challenges and Lost Sewjo
January 21, 2016
It's still January, so I think my year in review is still on time. Indulge me.

Challenges
Nearly all the quilts I made this year were as a result of challenges or specific requirements. It helped to have a place to start and not be starting from scratch. The deadlines were also essential!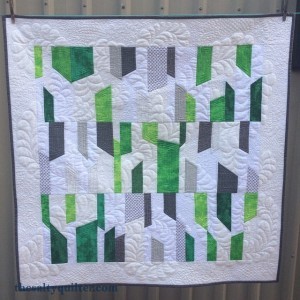 Forest in the Fog was a result of a special request from my lovely mother-in-law who wanted a green and grey quilt 36″ square. I had previously made a block for the Canberra Modern Quilt Guild colour of the year challenge way back in 2013, so I expanded on the idea. I really loved doing the feather quilting and fills on this quilt. It's probably the most exemplary quilting I've done to date.
I entered this quilt in the Modern Quilt Show Australia and the Canberra Quilters Exhibition. No placements in either, but I'm glad it was on display.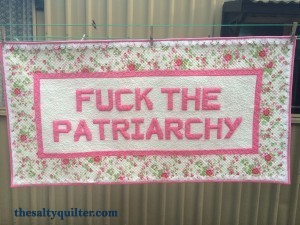 Fuck the Patriarchy was made for inclusion in a Social Fabric Exhibition, organised by Bee & Lotus Textiles. Unfortunately, we were not chosen by Craft ACT to exhibit. This is my most political quilt and I hope one day it will go on show.
I wanted to juxtapose the aggressive message with the extremely feminine fabric and traditional style. I definitely succeeded in my vision.
I'll Be Clammed was made for the OMG Quilts project. Co-creator Helen Godden presented the idea to the CMQG and I just had to make some quilts. I ended up with OMG #14.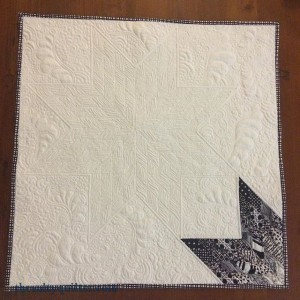 Broken Star was a result of the Canberra Modern Quilt Guild's modern monochrome challenge for the 2015 Canberra Quilt and Craft Fair.
My first concept had the pieced lone star blades take up more room in the 24″ square required size, but in the end, it worked out perfectly to quilt in a lone star.
The filler quilting on this one was really fun, and turned out fantastic.
The Badass Quilters Society sponsored the Game of Quilts Challenge. I decided to make quilts in both colourways.
Spoiler Alert – A Game of Thrones Memory Quilt was made to honour all our favourite (and not so favourite) characters who have met their makers on the TV series (I've blurred the names in the pic above to avoid spoilers, but if you're caught up on season 5, click the link to see the quilt).
A Song of Ice and Fire was made to the represent the series name of the books. The three snowflakes represent the prophesied three heads of the dragon to save Westeros.
A Song of Ice and Fire ended up in the middle of the pack in voting. Spoiler Alert was towards the end, but I still love the idea behind it.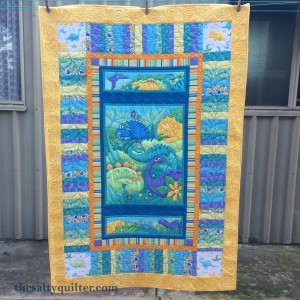 I actually did the piecing for Mesozoic Mates in 2014, but I finally finished quilting it in 2015. The quilt is for the daughter of some geeky friends. I really wish we'd start seeing more unisex panels/quilts for kids. Girls like dinosaurs too!
I quilted feathers in the border. Dinosaurs had feathers damn it!
Lost Sewjo
Despite a very inspiring trip to QuiltCon in February and the Australasian Quilt Convention in April, the last half of the year, I lost pretty much all desire to sew.
I made a few small things, but other than that, my sewing machine sat dormant. All I wanted to do was read shitty books and listen to good music.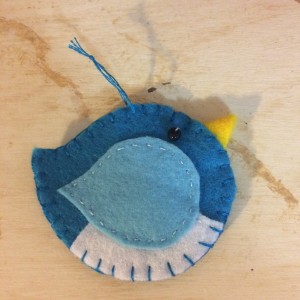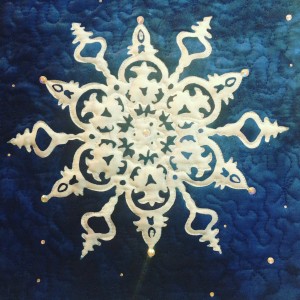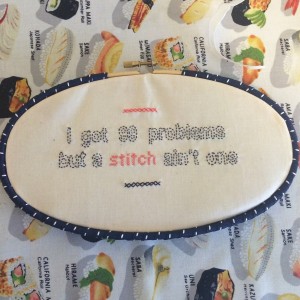 Hope for 2016
This year I started with mucking out my sewing room. I purged a bunch of books and patterns. I also trashed some old UFOs (mostly poor attempts at sewing clothes) that were in plastic bags that were literally disintegrating.
I have signed up for the Project 48 Quilt and am hoping to get started soon.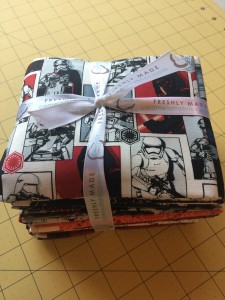 I also bought a bundle of Star Wars fabric off Massdrop. My husband has requested a couch quilt. And I have an idea for a pattern! And I want to sew! So there is hope.
What are your quilty plans for 2016? How have you gotten over losing your sewjo? Let me know in the comments.