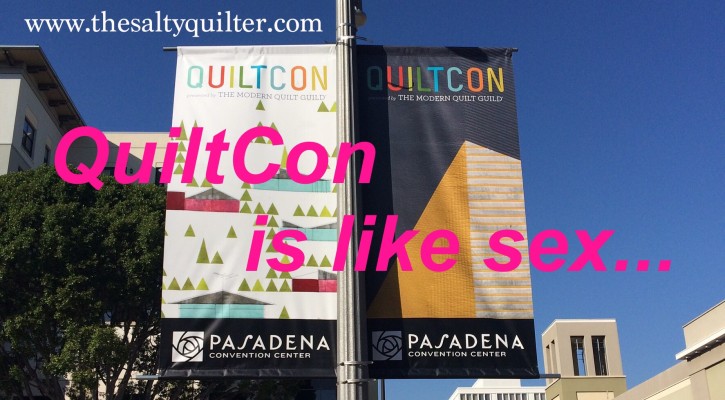 QuiltCon is Like Sex…
February 24, 2016
The first time it can be awkward and over in a flash, not quite living up to the hype. The second time you know what to expect and it's more relaxed, letting you get into the groove.
After attending QuiltCon in Austin in 2015, I was a bit underwhelmed. I didn't plan on attending again anytime soon. But then they announced QuiltCon West in Pasadena. This California native couldn't resist, especially combined with cheap February airfares.
So, as follows my review of the tiring, yet extremely satisfying, second trip to QuiltCon.
The Venue and Location
I much preferred Pasadena to Austin. It was easier to get to, the convention center was nicer and there were more amenities close by, such as the world's best placed Starbucks.
The partnership with Lyft was also handy – I used the service a lot to get around when I wanted to explore Pasadena or was just too lazy to walk to/from my hotel a kilometre away.
I will admit that I am biased – I'm a California girl and the location was both practical and convenient for me. I wouldn't have gone to QuiltCon again if it hadn't been for the location.
The Workshops
When the workshops opened online I copied/pasted in all my choices, assuming I would miss out on some. Well, they all went through. So I had a very busy QuiltCon. I did three FMQ classes, two piecing classes and one finishing class.
Things that were good:
The instructors. Part of the reason I'm willing to pay more is getting world class teachers that we aren't going to see in Australia anytime soon. All my instructors were excellent, open and inspiring.
The setup. The rooms were much better set up than at Austin.
The machines. All the machines I used (HQ, Babylock, Juki and Janome) were easy to use and the dealer assistants were friendly and helpful.
The three hour class times. For FMQ classes this was a perfect amount of time. Enough to get the idea without being exhausted.
Things that weren't so good:
Sharing Sweet16s: In two of my FMQ classes, students had to share quilting time on the mid-arm machines. This cut down on our quilting/learning time. I would have preferred to have individual domestic machines.
Three hour class times: my two evening classes, which focused on piecing and finishing, felt a bit rushed. This may have also been because my brain was on overload.
Over prepping. This is more my foible: over-preparing and bringing more than I really needed. Particularly for my FMQ, one 1 meter square practice sandwich would have been sufficient for my three classes, rather than the two I brought. I also bought a 6″ x 24″ ruler at Joanns that was totally unnecessary.
The Show
Last year at Austin, I did the show all in one go, and it was just way too much at once. Talk about visual overload. This year I was smart and took it in chunks.
I enjoyed the show a lot more this year. While it seemed like there were less quilts overall (and this was totally fine!) the variety was greater. Last year seemed like a lot of the same thing over and over. This year, trends included less matchstick quilting (thank God!), a greater variety of background solids other than white or grey (thank God!), an increase in variety of fabrics including hand dyed and prints, and more complex designs.
A few quibbles… I still feel that technical issues were common. I know I'm being the quilt police (and according to one of the quilts on display, I can go fuck myself), but these are supposed to be the best of the best quilts to represent the work of the MQG's 10,000 members. A quilt in the piecing category should have good points, or be so wonky it's clearly deliberate. Starts on straight line quilting shouldn't be visible; it's not hard to bury threads. And don't get me started about how much it chaps my ass that a quilt with only straight line quilting won an excellence in quilting award.
I also would have swapped the locations of the Minimalist and Modern Traditional sections. The Minimalist quilts were right behind the main winners. The Minimalist quilts are probably the highest on the "modern" spectrum, so it was a bit confronting to jump right into these. I think the Modern Traditionalist section could have eased people in a bit better, especially those visitors who are new to the style.
The Vendors
I always save my shopping until Sunday afternoon to get the best deals, but by then of course some vendors are a bit picked over. I felt like there was more fabric, but fewer gadget/lifestyle vendors. I did notice more batiks for sale at this show; I predict these will be trending soon in the modern quilt sphere. I ended up spending about the same amount as I did last year.
It did seem like the fabric companies upped their game as far as displays/activies in their booths. Many made creative use of technology. And the giveaways were fairly generous (yeah free fat-quarter of Kona Highlight from Kauffman!)
The Vibe
The vibe is really the main reason to go to QuiltCon. You're surrounded by likeminded and excited quilters.
It was amazingly awesome to chat with my wonderful fellow attendees, workshop students, volunteers, vendors and crew. I got to meet people I've followed online and made some great new quilter friends.
Again, in part because of the California location, the show had a more chilled vibe. It felt more like a nice buzz instead of caffeine overload. It definitely left me with a much better afterglow.
I won't be going to QuiltCon in Savannah (just too far away), but I would certainly go to one in Pasadena again.