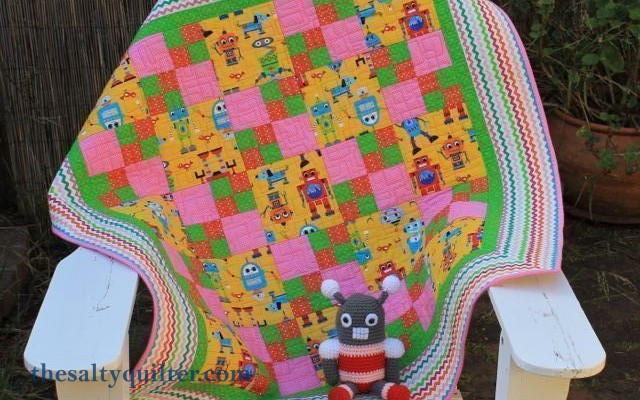 General Info
Start Date
 

Nov 17, 2012

Finish Date
 

Dec 27, 2012

Status
 Finished
Size
 Baby
Pattern
 My own design
What it's for
 A baby gift for our friends who are both in IT.
Batting
 Cotton
Quilt Top Notes/Techniques
A baby gift for our friends who are both in IT. I had a hard time finding gender neutral (let alone girlie) robot print, but I think this colour combo works well.
I also made a crocheted robot amigurumi from the book Amigurumi Two by Ana Paula Rimoli.
Quilting Notes/Techniques
The middle is quilted in my version of Geometric Allover by Angela Walters. Quilted with Superior variegated pink 40wt in center, and Gutterman 50wt cotton in borders.
Progress Pictures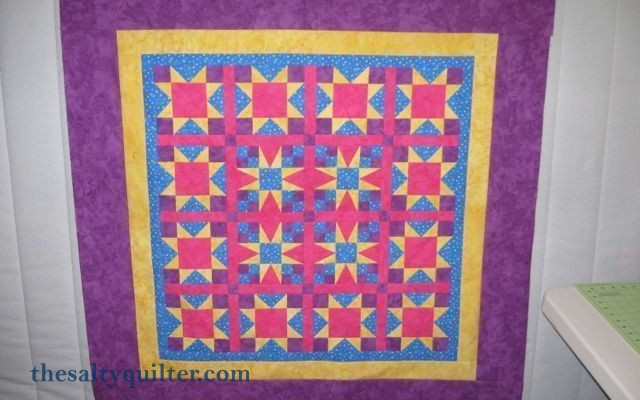 General Info
Start Date
 

Apr 23, 2010

Finish Date
 

Aug 1, 2010

Status
 Finished
Size
 42″ square
Pattern
 Bright Star
What it's for
Gift for baby Rose
Batting
 Sew Easy cotton batting.
Quilt Top Notes/Techniques
Flying geese templates for sawtooth stars were too small so used "Square in a Square" ruler to create them.  Also used ruler to create half diamond sections for centre star blocks.  Because the bias was opposite of normal, interesting patterns were created once washed.
Quilting Notes/Techniques
Ditch quilted around stars using walking foot.  Walking foot stars in borders.  Lots of turning the quilt.  Used Sew Easy cotton batting from spotlight.  Lots of fuzzies and bearding while quilting.  Had to pre-wash batting.
Progress Pictures