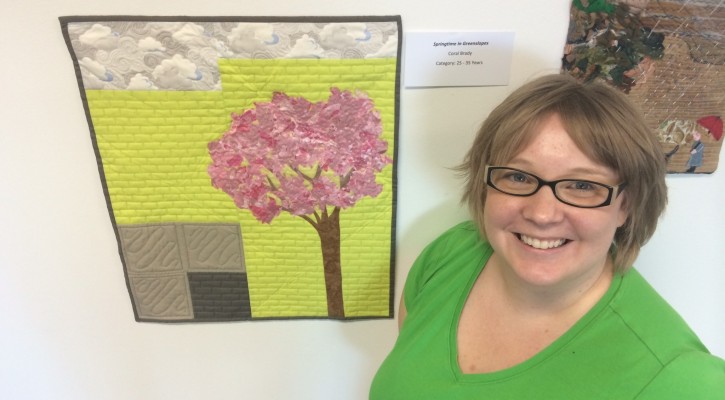 General Info
Start Date
 

May 31, 2014

Finish Date
 

Jun 8, 2014

Status
 Finished
Size
 Small wall
Pattern
 My own design
What it's for
 Quilt created for 2014 Under 35s Quilt Comp with the theme "Outside my Window." Gifted to Rachel.
Batting
 Cotton
Quilt Top Notes/Techniques
Inspired by pink trumpet tree that was outside my sewing room in Brisbane. Used confetti quilting technique with pink organza for the tree.
Quilting Notes/Techniques
Quilted in "bricks" of building. Used fabric design in sky as a quilting design.
Progress Pictures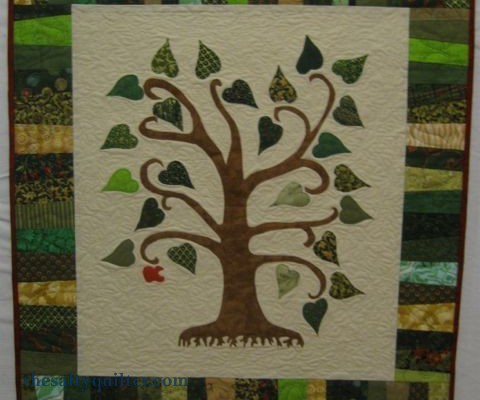 General Info
Start Date
 

Jan 5, 2012

Finish Date
 

Jan 25, 2012

Status
 Finished
Size
 25.5″ x 28″
Pattern
 My own design
What it's for
 Me
Batting
 Matilda's Own 100% cotton batting.
Quilt Top Notes/Techniques
My quilt was inspired by Frances Moore\'s tree quilt featured in the video for the January Free Motion Quilting Challenge. I wanted something to go into my office where I work as a knowledge analyst and this design came to mind. I foundation pieced the borders from my green (and some yellow and red) scraps.
Over time, I liked the quilt more and more. Eventually I entered it into the NSW Quilt Guild Under 35's quilt show in September 2012.
Quilting Notes/Techniques
I used Gutterman 50wt cotton thread to do the heart leaf motif in the center with a size 70 needle. The appliques were also free motion quilted with 50wt, but a size 80 needle was needed to prevent skipped stitches. For the border I used Gutterman Sulky 30 wt cotton and a size 80 needle to do the spiral leaf motif. I blocked the quilt before binding, which significantly improved its flatness.
I'm still not 100% happy with my stitch length. It is too long and varied, especially on freehand designs. I need to work on speeding up and varying my machine speed while slowing down my hands. Also, I am not getting great tension on the back of the quilt. I'm having issues with excess loops of thread as well as occasional bird's nests, even while using a Bobbin Genie.
Progress Pictures