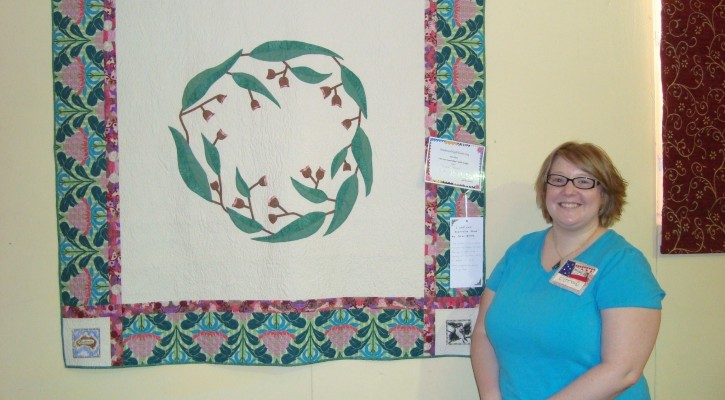 General Info
Start Date
 

Sep 28, 2014

Finish Date
 

Oct 20, 2014

Status
 Finished
Size
 52″ square
Pattern
 Gumflower Wreath by Leesa Chandler
What it's for
 In memory of my Nanny Betty
Batting
 Cotton
Shows
Won 1st in "We Are Australian" category at the 2014 Braidwood Quilt Event.
Quilt Top Notes/Techniques
Made in memory of my Nanny Betty, who was an Aussie war bride.
Wreath was machine appliqued with a small button hole stitch using variegated thread. Hand stitched pistol stitches for gum flowers using variegated embroidery thread.
Cornerstones were from an Australian themed applique panel. I chose the images of things that Nan would have liked.
Quilting Notes/Techniques
Use a combo stipple/gum leaf design for centre – based on design from quilt pattern. Used a circle design for the pink border. Cornerstones were quilted in invisible thread around main design and stippled in the background. Warratah border was quilted in a clamshell pattern.
Progress Pictures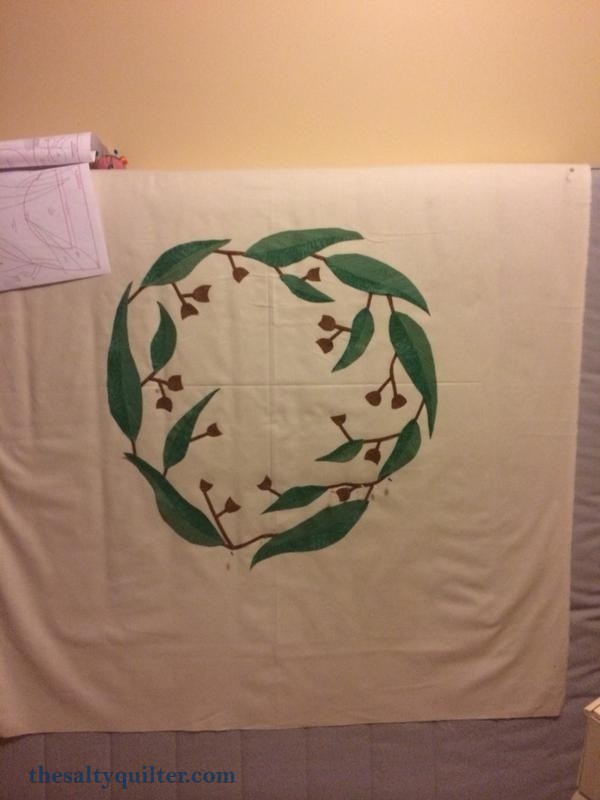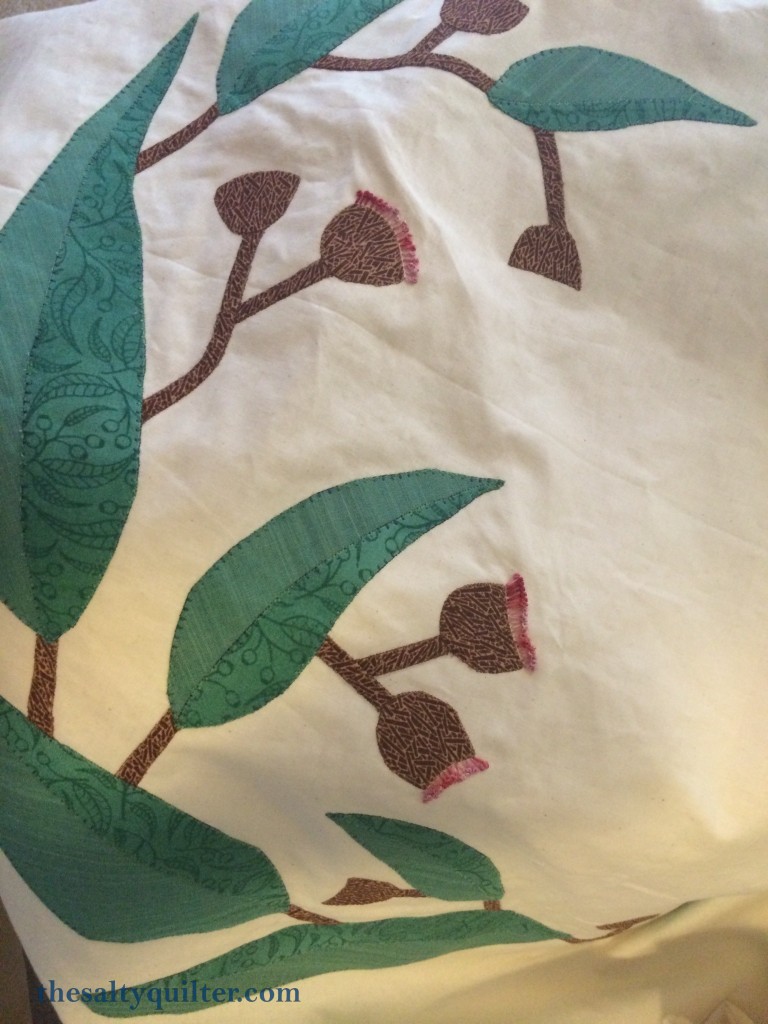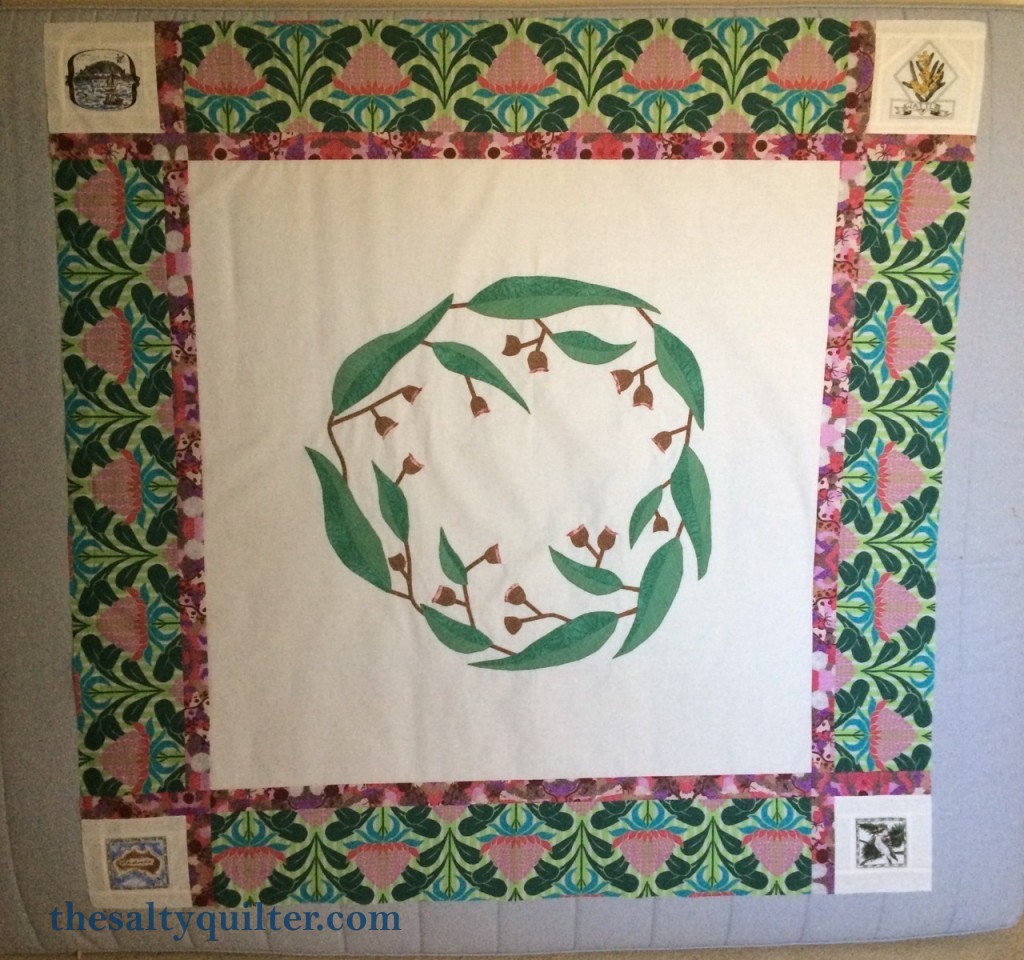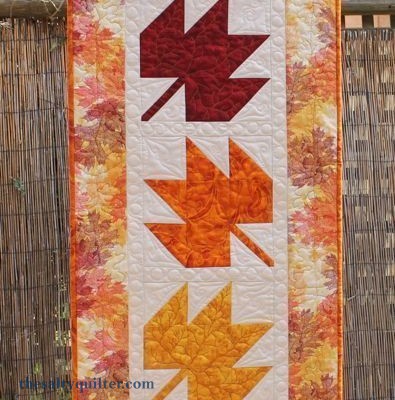 General Info
Start Date
 

Sep 23, 2012

Finish Date
 

Sep 28, 2012

Status
 Finished
Size
 Approx 38″ x 18″
Pattern
 My own design
What it's for
 The final season wall hanging for Grandma Mary Jean.
Batting
 Matilda's Own Cotton/Poly batting.
Quilt Top Notes/Techniques
Leaf block based on traditional design and 9″ finished.
I used the Missouri Quilt Company's technique for half square triangles by sewing around two squares and used the formula covered here. I calculated 5.5″ squares for 3.5″ HST's, but rounded up to 6″ so I could trim them down to size exactly.
Quilting Notes/Techniques
I used Mettler Polysheen for the leaf vein free motion quilting, and Gutterman 50wt cotton for the other FMQ.
Progress Pictures