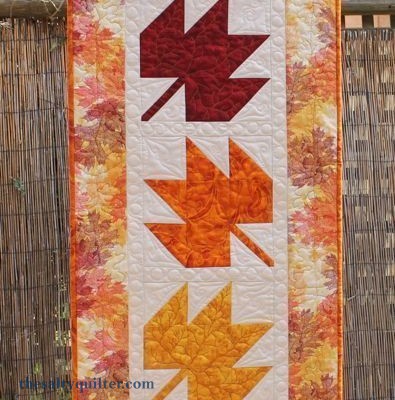 Autumn Leaves
September 28, 2012
General Info
Start Date
 

Sep 23, 2012

Finish Date
 

Sep 28, 2012

Status
 Finished
Size
 Approx 38″ x 18″
Pattern
 My own design
What it's for
 The final season wall hanging for Grandma Mary Jean.
Batting
 Matilda's Own Cotton/Poly batting.
Quilt Top Notes/Techniques
Leaf block based on traditional design and 9″ finished.
I used the Missouri Quilt Company's technique for half square triangles by sewing around two squares and used the formula covered here. I calculated 5.5″ squares for 3.5″ HST's, but rounded up to 6″ so I could trim them down to size exactly.
Quilting Notes/Techniques
I used Mettler Polysheen for the leaf vein free motion quilting, and Gutterman 50wt cotton for the other FMQ.
Progress Pictures