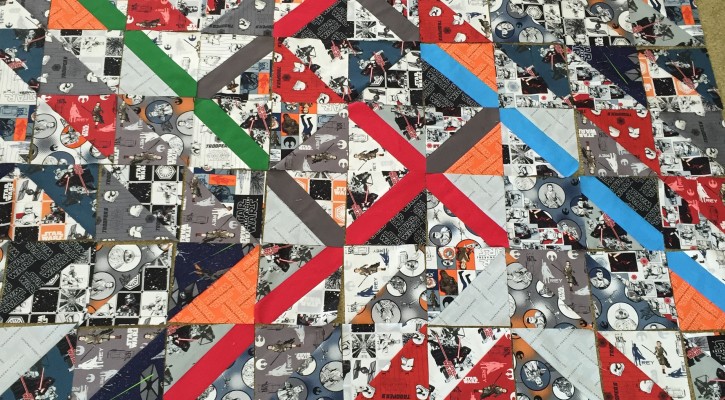 General Info
| | |
| --- | --- |
| Start Date |  28 March 2015 |
| Finish Date | |
| Status | Quilting in progress |
| Size |  ~85″ x 75″ |
| Pattern |  My own design |
| What it's for |  Gift for my husband |
| Batting |  Warm and natural 100% cotton |
Quilt Top Notes/Techniques
Got a 21 fat quarter set of Start Wars The Force Awakens fabric.
I used the Quilt in a Day HST trimmer to make 6″ finished HSTs. Fortunately the fat quarters were a true 21″ wide (I didn't pre-wash). I used my signature block technique to add in the solids for the lightsabers – I just used 2.5″ strips.
I used left over strips from the fat quarters to make the cornerstones and blocks in the borders.
I should really write a proper pattern for this quilt.
Quilting Notes/Techniques
Attempted to quilt on my friend's Tin Lizzie longarm, but it kept skipping stitches. Not sure what the issue was. This is the first time I've used this batting.
Progress Pictures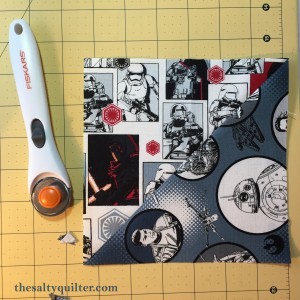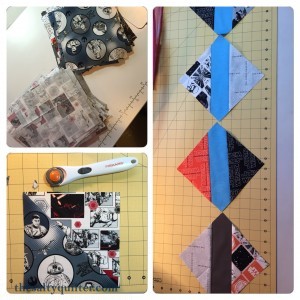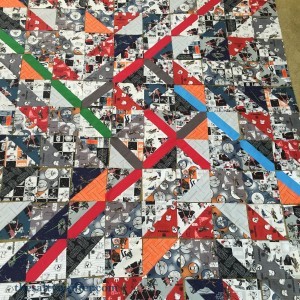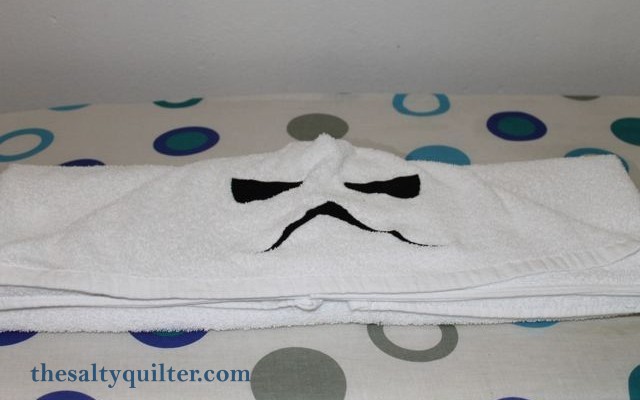 General Info
Start Date
 

Jul 29, 2012

Finish Date
 

Jul 29, 2012

Status
 Finished
Size
 Medium bath towel
Pattern
 My own design with inspiration from various sites
What it's for
 For my Star Wars crazy co-worker's twins.
Batting
 N/A
Quilt Top Notes/Techniques
I made hooded towels and added a stormtrooper applique face. The stormtrooper face was printed at 115%. I used white Gutterman SewAll polyester thread and satin stitch.
The towels are oversized for the baby, but will grow into it.
Progress Pictures