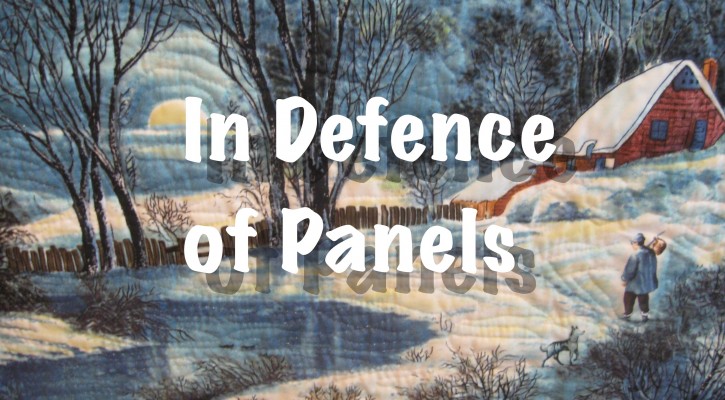 Printed panels are a classic feature of quilt shops and fabric stores. Often with cartoons or other themes, they are available for many different kinds of fabric lines. I just can't resist a gorgeous panel.
With the modern quilting movement, they seem to have fallen out of favour. But I think they are a fun and functional option for beginner and experienced quilters alike. Maybe I can make you reconsider using panels.
For beginner quilters
Like rag quilts, panels are a common entry point for many new quilters. Putting borders on a panel (or not) and some simple quilting to make a cot quilt is quick, easy and a great introduction to the quilting world.
My mom was keen to make a baby quilt for an acquaintance. We found a fantastic (and cheap) Aussie animal themed panel kit and put it together while she was visiting. She had never quilted before, but had a great time and is open to learning more.
Quick and easy decor
Panels make great options for making into a quick and easy cushion. You can also staple them onto a canvas from the cheap shop for quick wall decor. Imagine a bedroom set with panels and coordinating fabric.
Christmas (or holiday) quilts
There are heaps of patterns out there for Christmas quilts, but it's sure a lot of work to only have your quilt out for a month or two each year. The solution? Any of the gorgeous Christmas themed panels. Use them in a quilt, wall hanging or advent calendar.
One of my first attempts at free motion quilting was going crazy with
invisible thread
 over a Victorian Christmas panel. I learned a lot and I still display it every year.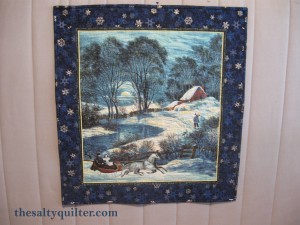 Baby and kids quilts
How often do you find out about a co-worker or acquaintance who's expecting and need to put together a quilt quickly? A quilt that will probaby be barfed on, shit on, and stepped on. The solution: use a panel.
I admit, I have a couple of special panels stashed away for when certain friends and family members reproduce.
Kids often cycle through favourite characters and activities quickly. Why go to heaps of effort to make a quilt with a subject that will be passé next year? Use a panel.
For a challenge
In conclusion…
I hope I've given you a few reasons to consider using a panel in or for an upcoming project.
Have you used a panel in a project or in a creative way? I'd love to hear about it.