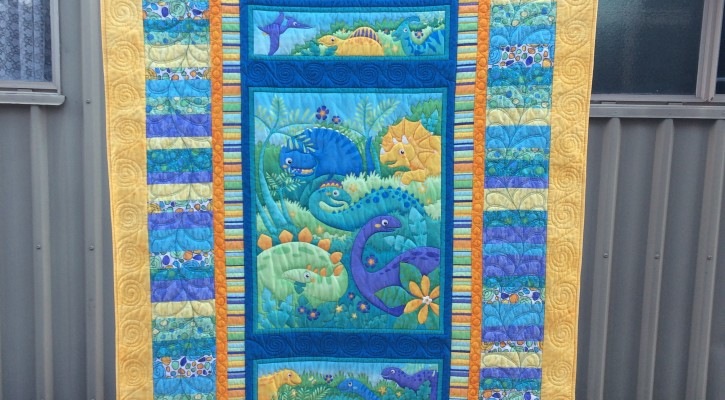 Mesozoic Mates
August 29, 2015
General Info
Start Date
 

Dec 14, 2014

Finish Date
31 August, 2015
Status
 Quilting
Size
 45″ x 65″
Pattern
 Kit from Logan's Patchwork
What it's for
 Gift for friend's baby daughter due in February 2015.
Batting
 2 layers Sew Easy cotton batting
Quilt Top Notes/Techniques
Easy to put together instructions and fabrics. Had plenty of fabric left over from the piano key border to make a strip to go through the backing fabric to get it just the right width.
Made a coordinating Stegosaurus taggie softie from First Day of Mae as gift for big sister.
Quilting Notes/Techniques
Straight line and free motion quilting with YLI invisible thread, Gutterman 50wt cotton and Aurifil.
I remember now why I don't buy Sew Easy cotton batting – it sheds lots of fuzzies from the edge during quilting.
Progress Pictures