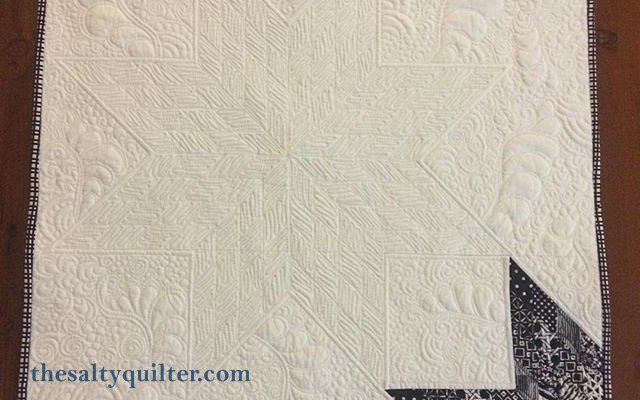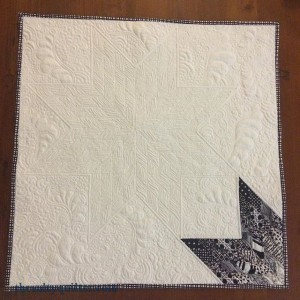 General Info
Start Date
7 July

, 2015

Finish Date
22 July, 2015
Status
Completed
Size
24 1/2″ square
Pattern
My Own Design
What it's for
Canberra Modern Quilt Guild Modern Takes on Traditional Challenge for the Canberra Quilt and Craft Fair 2015
Batting
Two layers bleached cotton.
Quilt Top Notes/Techniques
The Canberra Modern Quilt Guild sponsored a challenge for our display at the Canberra Craft and Quilt Fair in August 2015. The theme was a monochrome (black, white and gray) "Modern Traditional" mini quilt 24″ square. I used QuiltSmart's Little Lone Star fusible interfacing to make scrappy gradient lone star blades.
Quilting Notes/Techniques
I drew a full star out using the Clover water erasable pen. I used two layers of bleached cotton batting. The basket weave fill is based on Margaret Solomon Gunn's grid based fills article in Machine Quilting Unlimited July 2015.
White/black Gutterman 50 wt cotton thread and dove gray Rasant cotton poly thread for basket weave fill.
Progress Pictures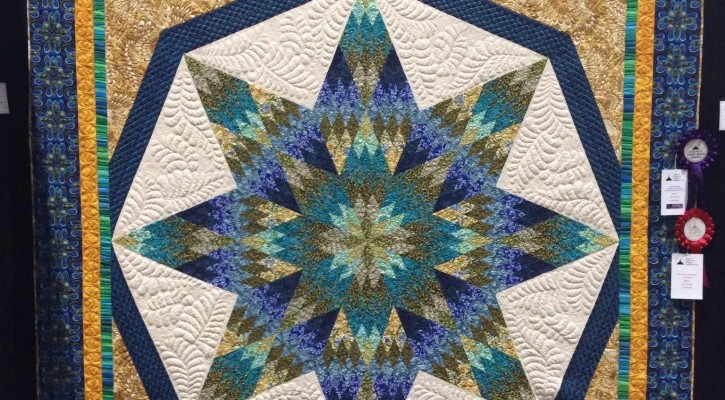 General Info
Start Date
 

Mar 3, 2012

Finish Date
 

Oct 12, 2013

Status
 Finished
Size
 87.5″ square
Pattern
 Star Sapphire by Jinny Beyer
What it's for
 For me.
Batting
Matilda's Own Cotton/Poly hi-loft batting.
Shows
Entered and shown in the 2013 Braidwood Quilt Event.
Won first prize for Contemporary Patchwork and Quilting at the 2014 Royal Canberra Show.
Won 2nd place in Bed Quilts (non-professional) and Excellence in Machine Quilting (domestic) at the Canberra Quilters Exhibition 2014.
Shown at Australian Machine Quilters Festival 2014
Shown at Australasian Quilt Convention 2015 as a "Best of the Best" representing the ACT
Quilt Top Notes/Techniques
Begun in a Lone Star class taught by Sue at Rosemont Patchwork Shop in Tugerranong.
I consider this quilt to be my "thesis", graduating from a beginning to intermediate quilter.
Quilting Notes/Techniques
Quilted in the ditch with YLI invisible thread (clear). Star is quilted in Signature Variegated thread in blue/green 40wt cotton. Feathers in Gutterman 50wt cotton, micro stipples in Rasant. Rest of quilt in Gutterman and Signature. Outer border quilted with Sew Art smoke invisible thread and the Bottom Line poly thread in the bobbin.
First quilt using "show blocking" technique before squaring and binding. Very effective.
Progress Pictures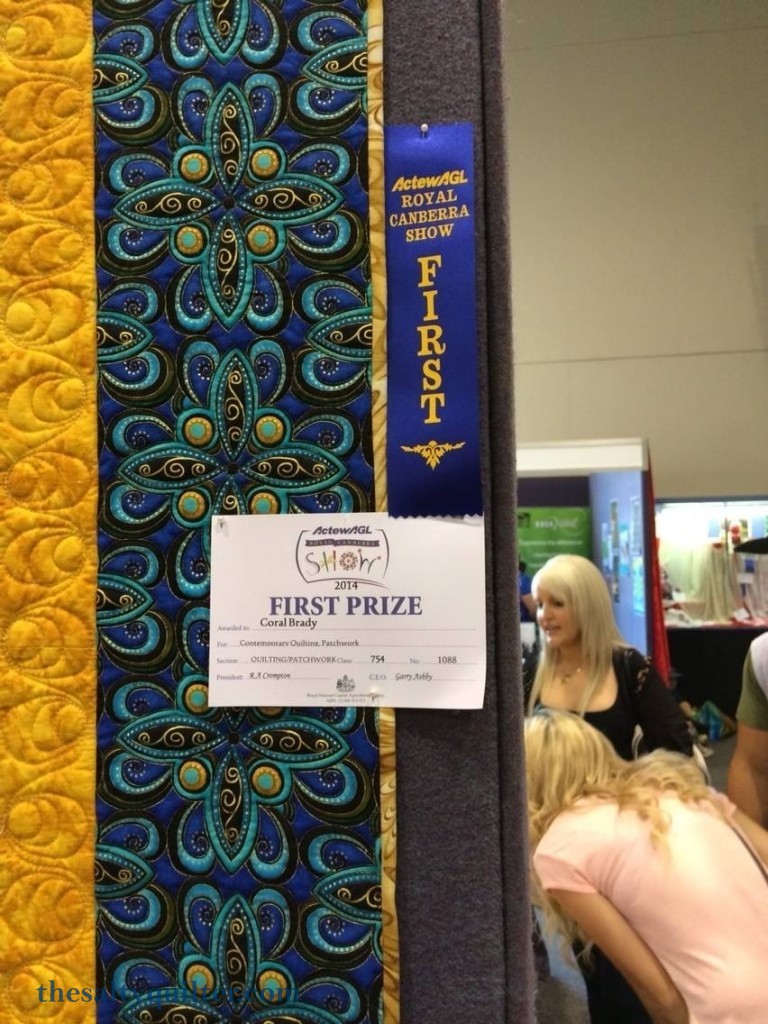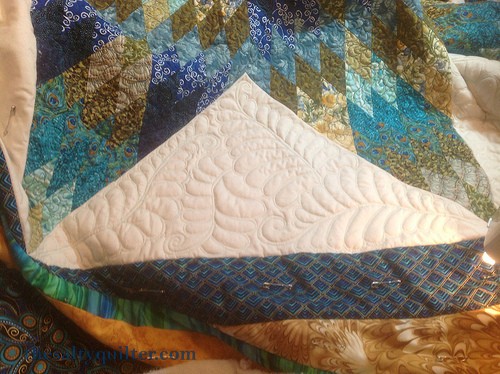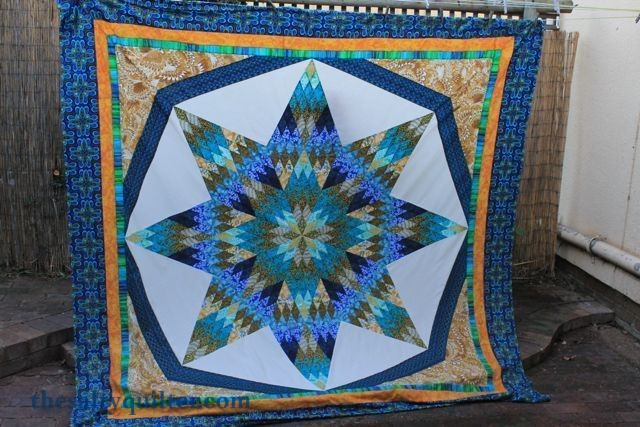 Pinning the diamond rows together.