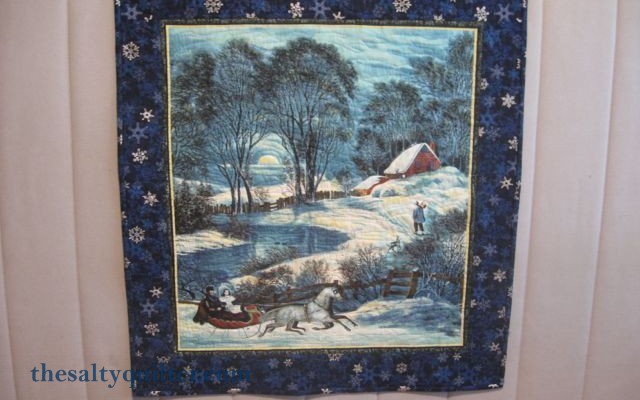 Winter Wonderland Wall Hanging
January 3, 2011
General Info
Start Date
 

Nov 12, 2010

Finish Date
 

Jan 3, 2011

Status
 Finished
Size
 Approx 30″ x 30″
Pattern
 My own design
What it's for
 Gifts for Grandma Lois, and Uncle Terry and Aunt Alyce
Batting
 Matilda's Own 100% cotton batting
Quilt Top Notes/Techniques
Used Winter Wonderland panels and added borders.
Quilting Notes/Techniques
Free motion quilted with monofilament.  Used 50 wt Gutterman cotton thread on first project and 50wt Prescensia cotton thread on second project. Quilted around designs, practiced following lines, echoing, background fillers.  Had issues with skipped stitches on second panel.  Thought it was because of the different thread brand, but now I think it was a machine issue.
Progress Pictures