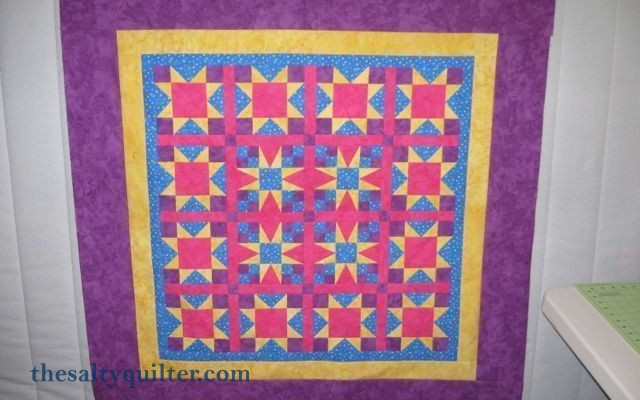 Bright Star
August 1, 2010
General Info
Start Date
 

Apr 23, 2010

Finish Date
 

Aug 1, 2010

Status
 Finished
Size
 42″ square
Pattern
 Bright Star
What it's for
Gift for baby Rose
Batting
 Sew Easy cotton batting.
Quilt Top Notes/Techniques
Flying geese templates for sawtooth stars were too small so used "Square in a Square" ruler to create them.  Also used ruler to create half diamond sections for centre star blocks.  Because the bias was opposite of normal, interesting patterns were created once washed.
Quilting Notes/Techniques
Ditch quilted around stars using walking foot.  Walking foot stars in borders.  Lots of turning the quilt.  Used Sew Easy cotton batting from spotlight.  Lots of fuzzies and bearding while quilting.  Had to pre-wash batting.
Progress Pictures