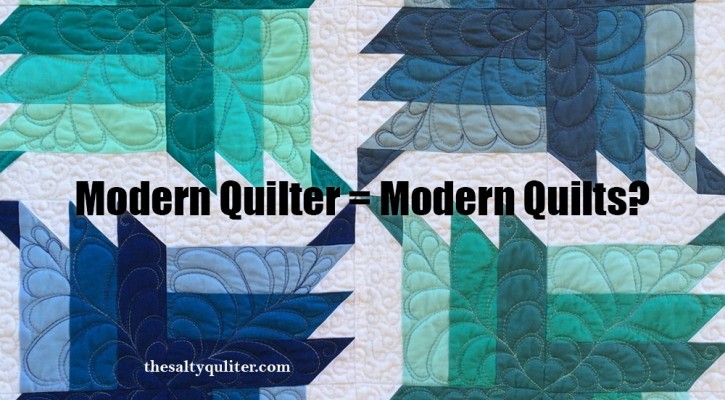 Can you be a Modern Quilter but not make Modern Quilts?
November 6, 2015
My quilty friend Crystal has been hosting the fantastic Modern Quilting, Modern Women series over on her blog Raspberry Spool. Today she posted an interview with the resplendent Mary Fons.
In the interview, Mary talks about whether she considers herself to be a "modern quilter":
I'm a modern quilter only if you take "modern" to mean now. I think that word actually can't be used in this way, however, because of the genre we have. So I consider myself a "contemporary" quilter but in every other way a quilter can be modern today, I am. I used social media and video to do a lot of work; I lecture and teach and all that business (booking, promo stuff, blog posts, ticket sales, etc.) happen well and quickly because of the Internet.
Mary nicely sums up some thoughts I've had for a long time:
If you don't make "modern (style) quilts" can you consider yourself to be a "modern quilter"?
This is certainly not a new topic. Many different bloggers have covered this same ground, several coming up with different answers (embrace it, ignore it, who cares?). So I'm not exactly covering new ground.
The Catalyst
I think this conversation was really brought to head with the acceptance (or rejection) of quilts for the QuiltCon 2015 show nearly a year ago now. The Modern Quilt Guild strictly adhered to their definition of a modern quilt and the requirements of their categories. (Full disclosure – I entered my Blue Steel mini quilt and was not accepted, although after seeing other people's entries on Instagram I was certainly not surprised, or particularly disappointed.)
And obviously it's the MQG's show; they can pick who they want to be in it. My hypothesis is that they really wanted to show a strong differentiation between modern style quilts, and traditional, or merely contemporary style quilts.
Shortly before this, I watched Jacquie Gering's MQG webinar (only available to MQG members) about the definitions of the modern quilting style. Not gonna lie – I felt like I was going through the five stages of grief watching this webinar. I realised then that the majority of the quilts I make are definitely not modern and those that are, are barely blips on the modern spectrum.
I had the opportunity to take a straight line quilting class with Jacquie at QuiltCon in 2015 and both she and the class were lovely. Unfortunately, I had almost completely lost my voice at the time, so I couldn't take to the opportunity to further discuss my response with her.
The Imminent Future
Now that the Modern Quilting Movement has effectively entered its adolescence, the MQG (effectively the governing body and leader of the movement) will need to decide what's more important – a descriptive style of quilting or people.
In the end, for the movement to be successful and enduring, it will need to side with the people. Styles and trends come and go, but people will always remain.
Like Mary Fons, my quilting and participation in the craft has been shaped by the people around me, including and especially, on the internet. My quilts may not be "modern quilts", but I am most certainly a modern quilter in attitude.
In the end, it can be summed up by a new member of the fabulous Canberra Modern Quilt Guild: "I felt like I found my people."
I'd love to know your thoughts. Do you consider yourself a modern quilter?