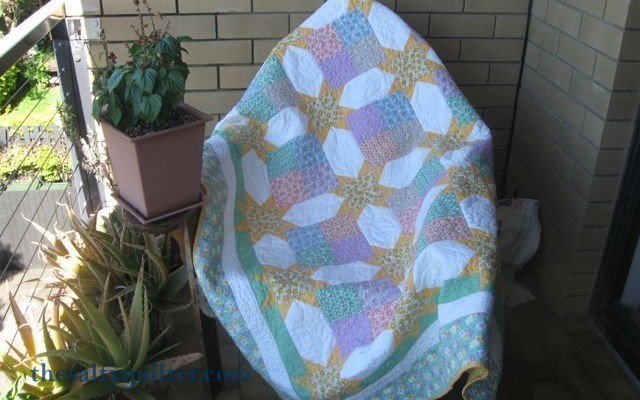 General Info
Start Date
 

Apr 7, 2011

Finish Date
 

May 1, 2011

Status
 Finished
Size
 56″ x 70″
Pattern
 Sunny Stars (from magazine)
What it's for
 Gift for my sister-in-law
Batting
 Matilda's Own 100% cotton batting
Quilt Top Notes/Techniques
Used a kit from the Fat Quarter Shop with "Everything But the Kitchen Sink" 1930's reproduction fabric. The kit had tons of fabric, probably 30% more than I actually needed, so I got lots of scraps.
Quilting Notes/Techniques
Quilted flowers in the four patch blocks with Mettler 12wt variegated thread "Easter Egg" with 90 topstitch needle. Thread left a lot of lint in machine. Quilted leaves in white sashsing, large flower in yellow cornerstones going into yellow diagonal corners on sashing, vines on solid green border, looped "l's" on white border and flowers in green print border all with Gutterman 100% cotton 50wt thread.
Progress Pictures