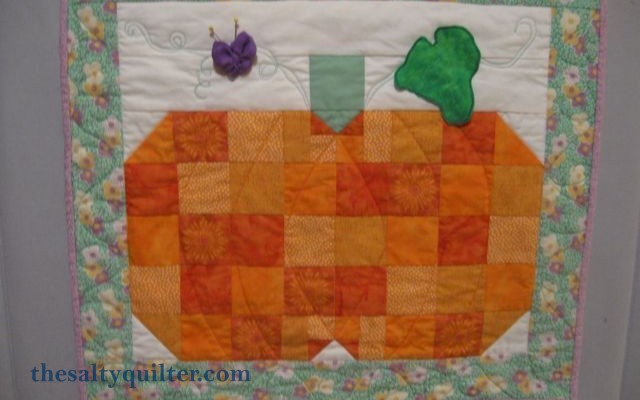 Reproduction Pumpkin
May 12, 2011
General Info
Start Date
 

May 2, 2011

Finish Date
 

May 12, 2011

Status
 Finished
Size
 20″ x 18″
Pattern
 My own design
What it's for
 Entered in 2011 Goomeri Pumpkin Festival patchwork show.
Batting
 Matilda's Own 100% cotton batting.
Quilt Top Notes/Techniques
Used left over fabric from "Sunny Stars" quilt plus oranges from stash and Sewco.  Added double fused leaf and small yo-you butterfly.
Quilting Notes/Techniques
Used walking foot to quilt around borders and pumpkin, plus the curves inside the pumpkin. FMQ'ed pumpkin vines and border. Thread – Gutterman Cotton 50wt.
Progress Pictures