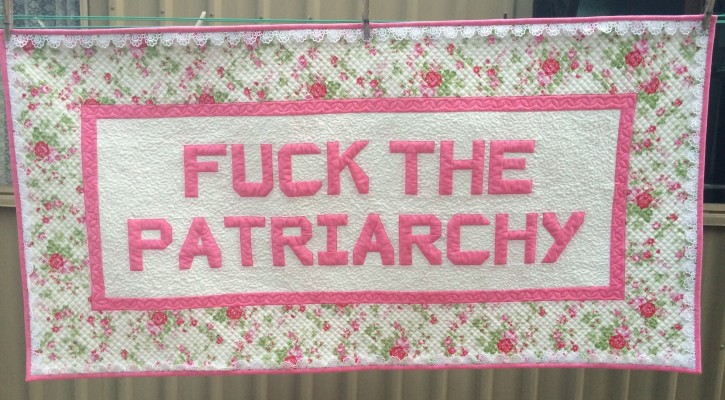 Fuck the Patriarchy
June 5, 2015
General Info
Start Date
 

Jan 14, 2015

Finish Date
 

Jun 5, 2015

Status
 Finished
Size
 Approx 63″ x 25″
Pattern
My own design. Paper-pieced letters from Quilt Talk by Sam Hunter.
What it's for
Originally made for a social commentary fabric exhibition organised by Bee & Lotus Textiles. Exhibition date/location TBA.
Batting
 2 layers bleached cotton batting
For a long time, I've thought about feminism in quilting today (as one does). Although a traditionally feminine domestic craft like quilting would likely to seem to be un-feminist, or even anti-feminist, to many outsiders, I have come to the conclusion it is actually a seriously feminist statement. In today's day and age, women are expected to "have it all" and be everything to everyone else, but what they don't get is any time to themselves. While quilting produces a product that may be given to someone out of love or caring, the process of quilting itself actually allows women to take time for themselves. Crafts have been shown to be extremely therapeutic, and when a woman decides that she is going to do one of these crafts it's saying "My wants, needs and what I like to do are important too".
As part of this dialogue I've been having with myself, I was inspired by the popular subversive cross stitch patterns, which use traditional counted cross stitch for extremely nontraditional sayings or text. I thought about making a super feminine traditional style wall hanging, with a modern feminist statement.
Towards the end of last year, there was much more attention in the media of women being killed or harmed by their partners. After hearing about several high profile incidents in both the USA and Australia, I found out that quilter and pattern maker Pam Bono had been killed by her husband in a murder/suicide. He even killed her beloved bulldog. At this point, I was outraged. The only thing I could think was "FUCK THE PATRIARCHY".
This quilt is the synthesis of my anger over the fact that one woman a week in Australia and three women a DAY in the USA are killed by their partners or former partners. All proceeds from the potential sale of this quilt at the exhibition will be donated to a local women's shelter.
Quilt Top Notes/Techniques
Foundation paper pieced letters.
Quilting Notes/Techniques
I wanted to use very traditional quilting to emphasize the traditional style of the quilt. I stippled the white background and stitched in the ditch of the letters with invisible thread. I marked out a pumpkin seed design for the inner border and marked a 1/2″ on point grid for the outer border.
I had originally planned to put the lace on the seam between the inner and outer border, pointing out. But as I finished my quilting, I decided to incorporate it into the binding instead. I free motion quilted over the edges of the lace on the sides and bottom to stop it from drooping.
Progress Pictures