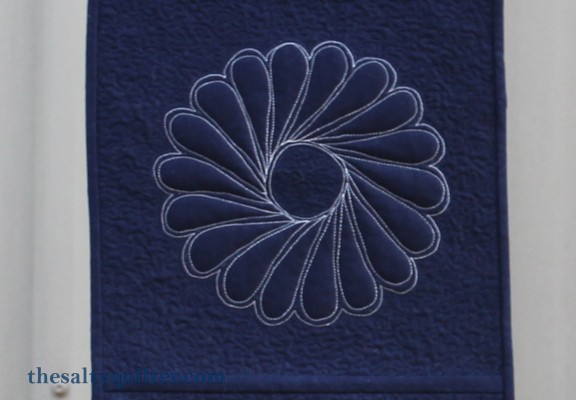 General Info
Start Date
 

Sep 11, 2014

Finish Date
 

Sep 28, 2014

Status
 Finished
Size
 12″ x 36″
Pattern
 My own design
What it's for
 Braidwood Quilt Event 2014 Blue and White Challenge
Batting
 Matilda's Own 100% poly for trapunto. Matilda's Own 100% cotton for batting.
Quilt Top Notes/Techniques
I wanted to make a trapunto feathered wreath for my buzzsaw blocks in my Blue Steel quilt. This was the sampler. I didn't end up using the wreath on the main quilt, but my samples were worthy of finishing off Quilt As You Go.
Top wreath was my design.
Middle wreath was designed by Anita Shackelford.
Bottom wreath was designed by Three Sisters Fabric.
I thought the finished quilt had a Japanese look, so I named it "Hanawa" or "wreath" in Japanese.
Quilting Notes/Techniques
Gutterman 50wt cotton thread in cream. Signature 40wt cotton thread in navy.
Progress Pictures