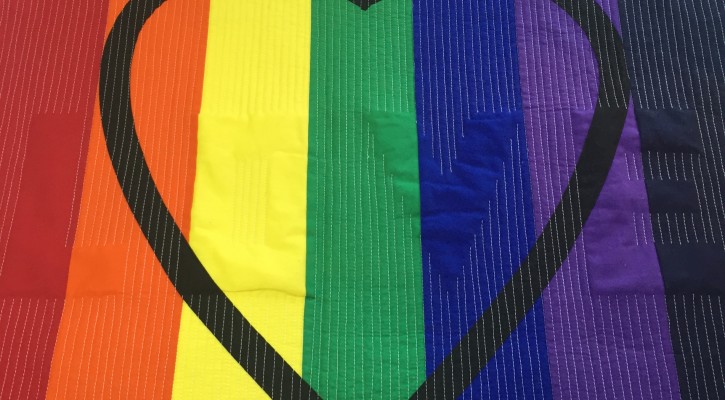 General Info
| | |
| --- | --- |
| Start Date |  9 July 2016 |
| Finish Date |  28 July 2016 |
| Status |  Finished |
| Size |  24″ square |
| Pattern |  My own design |
| What it's for |  Canberra MQG challenge "Love is Love" |
| Batting |  Random cotton my from stash |
Quilt Top Notes/Techniques
Cut 3.5″ strips of solids. Used pre-bought, single fold 1″ bias for heart. Had some issues getting bias to curve. Ended up using a bit of heat from my iron (no steam) and then pinned a whole bunch to keep in place. I made a test block to see the best way of stitching it down – a 3.5 length straight stitch worked better than the typical blind hem stitch I'd use on turned edge machine applique.
Quilting Notes/Techniques
Used freezer paper to make "LOVE"  block letters 6″ tall. Used the one inch grid on my cutting mat to draw out the letters. Pressed on to surface of quilt. Had to re-press a few times.
Used a 3.0 straight stitch to straight line quilt using the open toe Accufeed foot. First did 1/2″ spaced lines, then filled in 1/4″, stopping at the letters. I buried the threads, but some I left too short to knot. When pulling off the freezer paper, some of the stitches did pull a little bit.
Progress Pictures