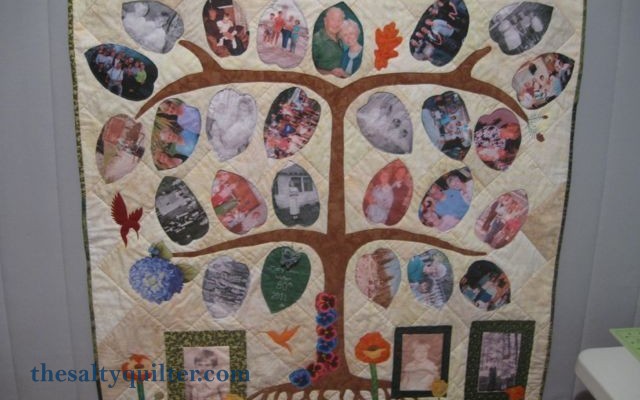 General Info
Start Date
 

Jan 15, 2011

Finish Date
 

Feb 6, 2011

Status
 Finished
Size
 39″ x 39″
Pattern
 My own design
What it's for
 For Grandma MJ's 80th birthday.
Batting
 Matilda's Own 100% cotton batting.
Quilt Top Notes/Techniques
I printed family photos onto ink jet printable fabric and cut out into leaf shapes.
First on point quilt.  Used Tonga Treats 10″ square pack.  Squares were not 10″ on both sides. Cut down to 5″.
Used "Perfect Poppies" pattern for poppy appliques.
Quilting Notes/Techniques
Quilted in the ditch along seamlines of blocks on point before applique begun. Free motion quilted around applique raw edges.  Had problems with skipped stitches on appliques.  Other flowers and hummingbirds were applique perse.
Progress Pictures