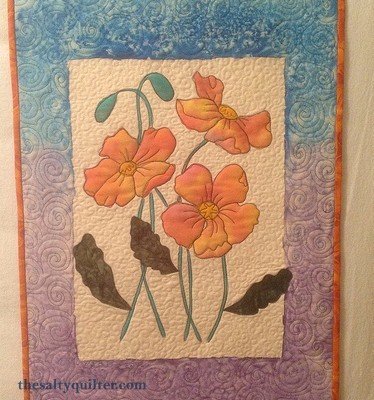 General Info
Start Date
 

Sep 1, 2013

Finish Date
 

Sep 20, 2013

Status
 Finished
Size
 Wall hanging
Pattern
 

Poppies by Helen Godden

What it's for
 My house
Batting
 ?
Quilt Top Notes/Techniques
Class by Helen Godden at Hobbysew Belconnen. Her poppies design, traced and painted by me. It was done using Genesis Creations Liquid Radiance pigment. It was similar to doing watercolour. Used salt to get splotchy effect on border.
Quilting Notes/Techniques
Flowers outlined in black thread quilted over at least twice.
Progress Pictures