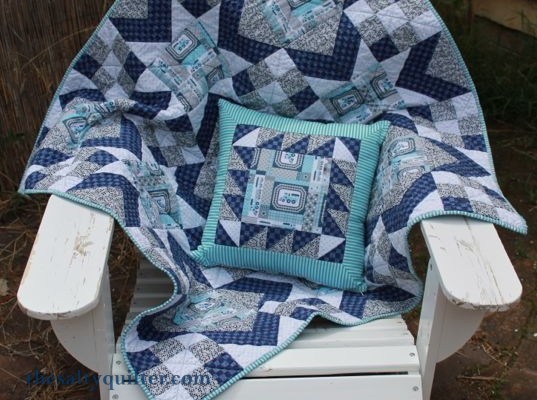 General Info
Start Date
 

Jan 12, 2013

Finish Date

Feb 8, 2013

Status
 Finished
Size
 Approx 45″ x 45″ when completed.
Pattern
 Mystery quilt designed by Fran Williams.
What it's for
 Gift for friends' baby boy.
Batting
 Cotton
Quilt Top Notes/Techniques
Class taught by Jenny Bowker, 12 Jan 13 at Addicted 2 Fabric in Canberra. Great design with 1 focus fabric, 1 light, 1 medium, 1 dark. I also used navy plaid flannel shirting for the back.
Made half square triangles from the chevron off cuts. Used some to make a matching pillow. My first time installing a zipper. Used super helpful tutorial to guide me.
Quilting Notes/Techniques
Flannel plaid backing.
Quilted in the ditch and diagonally through nine patch blocks. Did FMQ piano keys in dark section of chevron block using Signature 40wt cotton in dark royal blue.
Had some issues with the binding being particularly wrinkly. May be the fabric (didn't pre-wash any in the quilt).
Progress Pictures