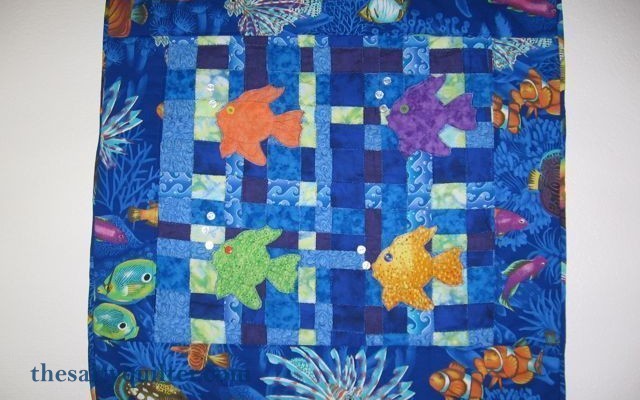 General Info
Start Date
 

Jul 15, 2006

Finish Date
 

Sep 15, 2006

Status
 Finished
Size
 25″ x 28″
Pattern
 Water Weaving from McCalls Quick Quilts Magazine
What it's for
 Me.
Batting
 Poly
Quilt Top Notes/Techniques
My first quilt.
Used crappy polyester batting that melted and squished when fish were fused on.  Didn't know how to sew on borders, so just sewed the them on; definitely not square.
I still display this quilt in my house and like to see how far I've come.
Quilting Notes/Techniques
Essentially a quilt-as-you-go, zig zagging over the edges of the water strips. Straight line quilted 1/4″ from inside of border.
Progress Pictures