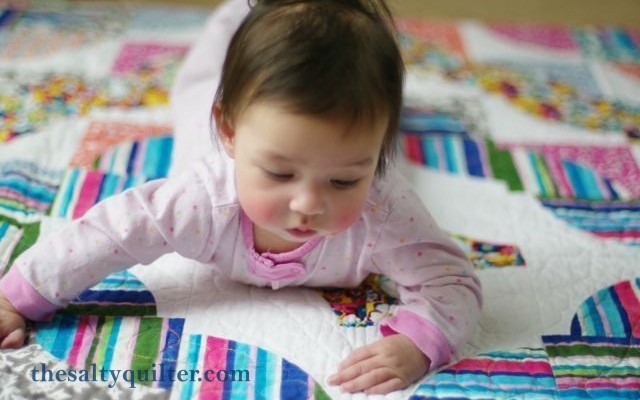 General Info
Start Date
 

Jun 6, 2011

Finish Date
 

Jul 17, 2011

Status
 Finished
Size
 81″ x 81″
Pattern
 Quilt for Baby from McCalls Quick Quilts magazine
What it's for
 Gift for baby Evelyn
Batting
 Matilda's Own 100% cotton batting.
Quilt Top Notes/Techniques
Striped and flower fabric left over from table centerpieces from Grandma MJ's 80th birthday (including some chocolate cake stains on some bits). White homespun from Sewco. Other misc fabrics from Spotlight sale table. Used a Victorian Textiles 6.5″ drunkard's path template. Blocks were coming out very uneven, so ended up trimming down to 6.25″ to make them square.
Quilting Notes/Techniques
Used Gutterman 50wt thread in white for ditch quilting and straight line quilting. Used King Tut "Cleopatra' thread for free motion feathers.
Progress Pictures