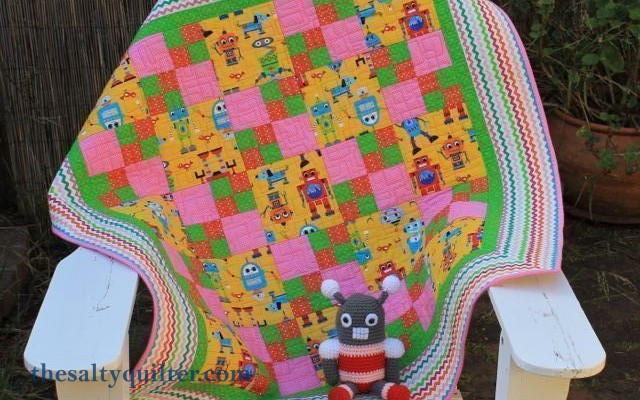 General Info
Start Date
 

Nov 17, 2012

Finish Date
 

Dec 27, 2012

Status
 Finished
Size
 Baby
Pattern
 My own design
What it's for
 A baby gift for our friends who are both in IT.
Batting
 Cotton
Quilt Top Notes/Techniques
A baby gift for our friends who are both in IT. I had a hard time finding gender neutral (let alone girlie) robot print, but I think this colour combo works well.
I also made a crocheted robot amigurumi from the book Amigurumi Two by Ana Paula Rimoli.
Quilting Notes/Techniques
The middle is quilted in my version of Geometric Allover by Angela Walters. Quilted with Superior variegated pink 40wt in center, and Gutterman 50wt cotton in borders.
Progress Pictures