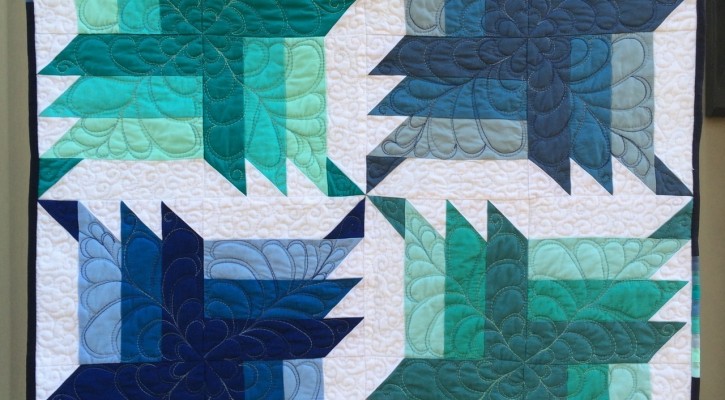 Blue Steel
September 28, 2014
General Info
Start Date
 

Sep 7, 2014

Finish Date
 

Sep 28, 2014

Status
 Finished
Size
 23″ squared
Pattern
Buzzsaw block from McCalls Quilting Magazine: Pinwheel Pines by JoBeth Simon Nov/Dec 2012.
What it's for
 For the Braidwood Quilt Event 2014 Blue and White challenge.
Batting
 Matilda's Own wool
Shows
Shown at Braidwood Quilt Event 2014 Blue and White challenge.
Applied for place in QuiltCon 2015 show, but rejected.
Quilt Top Notes/Techniques
Blues are Michael Miller Cotton Couture. White is Kona Snow.
Very easy block with great secondary pattern.
Used left over scrap strips in binding.
Quilting Notes/Techniques
Feather quilted with Mettler variegated cotton. White is gutterman 50wt cotton. Matilda's Own 100% Wool batting.
Progress Pictures