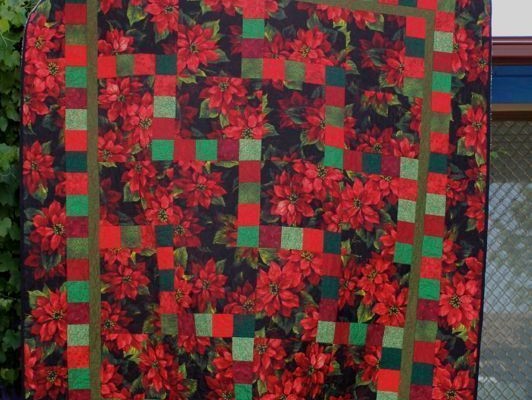 Poinsettia Quilt
December 6, 2013
General Info
Start Date
 

Sep 29, 2013

Finish Date
 

Dec 6, 2013

Status
 Finished
Size
 Lap
Pattern
 From Keepsake Quilting
What it's for
 Christmas gift for Mom
Batting
 Cotton
Quilt Top Notes/Techniques
The pattern was not great. It's a shame they don't include instructions for a length wise outer border. If alternating colours of scrappy blocks, make sure 10 start with colour A and 10 with colour B. The pieced border should end with the same colours length wise, and the other colour width wise. The amount of fabric listed for the backing will only give you approx 2″ overhang on the top and the bottom of the quilt. If you are sending to a longarmer, recalculate the backing requirement.
Quilting Notes/Techniques
Quilted from the back, using the Poinsettia print fabric as a guide for quilting.
Progress Pictures