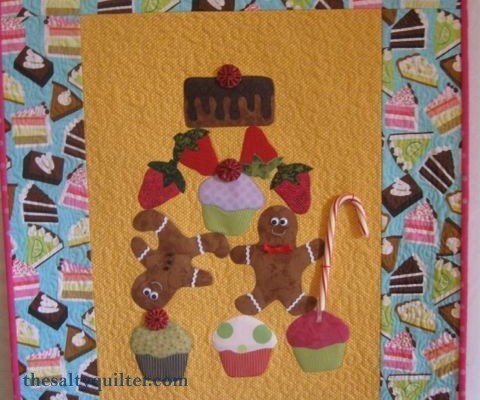 The New Food Pyramid
January 16, 2012
General Info
Start Date
 

Jan 5, 2012

Finish Date
 

Jan 16, 2012

Status
 Finished
Size
 22″ x 27″
Pattern
The New Food Pyramid by Fun Thread Designs
What it's for
 Gift for my sister-in-law
Batting
 Matilda's Own 100% cotton batting.
Quilt Top Notes/Techniques
I saw this pattern and thought it was so cute (I got it when it was free, but it is totally worth the $5, very well written with a fusible applique tutorial). I've made cupcake themed stuff for my sister-in-law before, so I made this as a late Christmas gift. I used a buttonhole stitch with width and length of 1.5 to go around the appliques.
The pie fabric was a swap from Kay.
For the embellishing I should have put the rick rack on before going around with buttonhole stitch to help hold them down. The ends began to fray. I also should have waited until after quiting to put on the yo-yos. I added the candy cane to make it look less lop-sided because I didn't centre the appliques properly.
Quilting Notes/Techniques
This was my first time FMQ on my new Janome MC6600P. It went pretty well. I used Gutterman 50wt cotton for the filigree quiting in the inside and YLI invisible thread with Gutterman in the bobbin. After I finished the quilt top, I read on CLK's blog that when quilting an applique quilt, to go around the appliques with invisible thread after quilting the background. This way the left over "puff" goes behind the appliques. I tried it and it worked perfectly. When putting on the binding I needed to use a size 80 needle; the size 70 kept skipping stitches in thick areas.
Progress Pictures