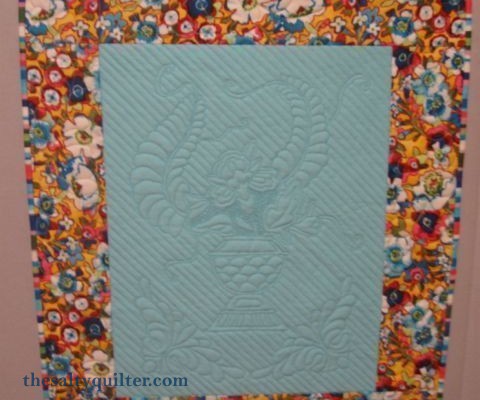 Flowers & Feathers
June 7, 2011
General Info
Start Date
 

Apr 22, 2011

Finish Date
 

Jun 7, 2011

Status
 Finished
Size
 25.4″ x 24.5″
Pattern
 My own design
What it's for
 Spring wall hanging for Grandma MJ
Batting
 Matilda's Own 100% cotton batting.
Quilt Top Notes/Techniques
Wholecloth middle with borders added. Border fabric was from table coverings from Grandma MJ's 80th birthday celebration.
Quilting Notes/Techniques
Vase, flowers and flourish quilting design by Diane Gaudynski from "October Morning" in Choosing Quilting Designs, Rodale's Successful Quilting Library, edited by Jane Townswick.
Free motion quilted with Rasant cotton/poly thread. No weight listed, but much thinner than my usual Gutterman 50wt cotton. Feather border hand drawn by me and quilted with Gutterman Sulky 100% cotton 30wt variegated thread.
This time I sprayed the quilt with water to remove the water soluble marker. I didn't want to soak it again and get the level of shrinkage that I got in "Humble Harvest." Hopefully no marks will reappear in the future, but will be a good test.
Progress Pictures