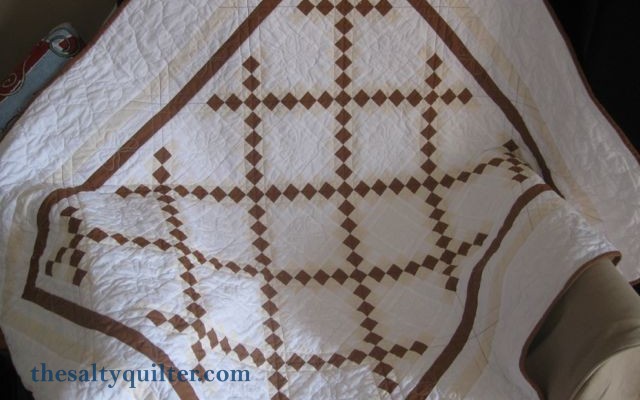 Organic Double Irish Chain
December 14, 2010
General Info
Start Date
 

Dec 2, 2010

Finish Date
 

Dec 14, 2010

Status
 Finished
Size
 34.5″ x 44.5″
Pattern
 From Quilter's Academy Volume 1
What it's for
 Baby gift
Batting
 Used Heirloom organic cotton batting.  Batting had no scrim so had to be quilted within 4″.
Quilt Top Notes/Techniques
Made completely from organic cotton solids in white, almond and brown sugar.  First commission quilt.
Did not pre-wash batting, but pre-washed fabrics.  Spent 37.5 hours making over a week and a half.
Quilting Notes/Techniques
Straight line quilted along diagonals.  Free motioned four heart design inside white blocks.  Connected hearts in borders.  Both from Harriet Hargrave stencils.
Progress Pictures