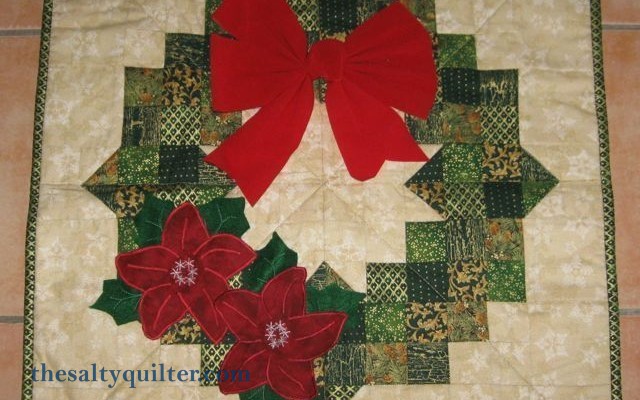 Poinsetta Wreath
December 6, 2008
General Info
Start Date
 

Oct 16, 2008

Finish Date
 

Dec 6, 2008

Status
 Finished
Size
 28″ x 28″
Pattern
 Made from a kit from Sewco.
What it's for
 Christmas gift for Mom
Batting
 ?
Quilt Top Notes/Techniques
Grandma Mary Jean helped me piece and quilt.  She taught me how to match seams and make flying geese.
First use of perfect binding technique from American Patchwork & Quilting.
Quilting Notes/Techniques
Quilted through middle horizontal and vertically, as well as through the corners diagonally. First time I learned I needed to use a walking foot to quilt.
Fused red and green fabrics back to back, satin stitched around template and cut out around edge of stitching to create flowers and leaves. Used star burst beads for centres.  Used store bought bow.
Progress Pictures