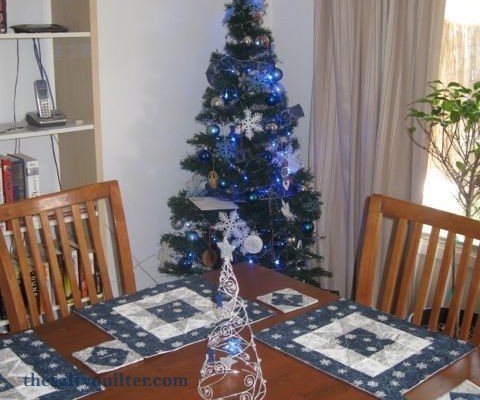 General Info
Start Date
 

Nov 25, 2011

Finish Date
 

Dec 10, 2011

Status
 Finished
Size
 15″ x 18″
Pattern
 Handmade magazine
What it's for
 My Christmas table setting
Batting
 Iron on pellon
Quilt Top Notes/Techniques
The placemat pattern that was in Handmade was using the left overs from a tablerunner featured in a previous issue. Some of the pieces did not make sense (sew a 4.5″ rectangle to a 5″ square, huh?). I rang the designer, Angela Bradbury of Sew Bright Quilts, and she promptly emailed me the entire pattern, free of charge! Awesome service!
I still ended up cutting my pieces down and using slightly smaller vertical borders, due to a fabric shortage, but they still turned out nice.
Quilting Notes/Techniques
The coasters I made using left over fabric and my square in a square ruler. I used my new Janome MC660P to embroider each family member's name on one, so that they know where to sit and which drink is theirs. I used Gutterman metallic thread with a 90 topstitch needle with a 50wt cotton Gutterman thread in the bobbin. I still had some issues with the thread tangling on the back, so I got some 100 metallic needles to try when I quilted them and they worked much better. I only did straight line quilting – not FMQ.
Progress Pictures