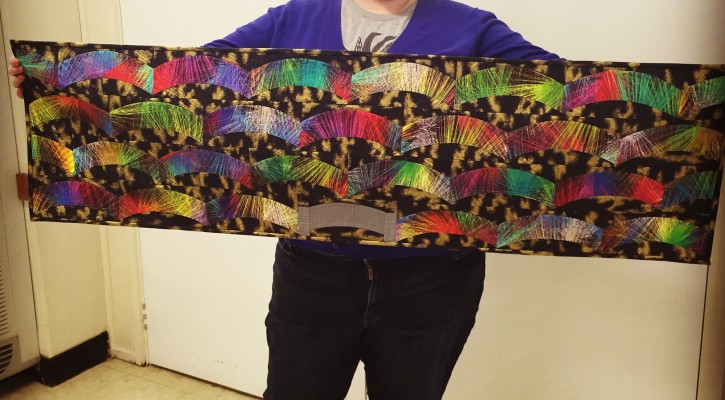 General Info
| | |
| --- | --- |
| Start Date |  28 May 2016 |
| Finish Date |  3 September 2016 |
| Status |  Finished |
| Size | |
| Pattern |  Urban Runner – modified layout |
| What it's for |  My table & practicing the Quick Curve Ruler |
| Batting |  Random cotton from my stash. |
Quilt Top Notes/Techniques
I bought a Quick Curve Ruler ages ago because I was interested in the Metro Rings (double wedding ring) pattern. But I needed some help figuring out how to use it. Enter Sylvia (aka CreativeChicky) and her QCR class at Addicted to Fabric in Canberra.
We used the free included Urban Runner pattern, but basically the class was to figure out a little about how to use the ruler itself. It did take a little practice.
I ended up using my regular, non-Accufeed, quarter inch foot on my sewing machine. I find the Accufeed doesn't do well on curves due to the bulkiness of the feet.
After making and trimming the blocks, I attempted to match points when putting them together, but this went by the wayside pretty quickly. I think the issue is that my 1/4″ seam/pressing was still not great, meaning that the width of the inner strip varied. This mean that even when trimming 1/4″ away from the corner on the bottom, the top varied in size.
After Sylvia's suggestion, I made a little Sydney Harbour Bridge by adding strips to the side of a solid grey curve.
Quilting Notes/Techniques
Quilting in smoke invisible thread with a firework burst pattern. It takes a bit of time and uses quite a bit of thread. Have to re-fill my bobbin regularly.
Progress Pictures