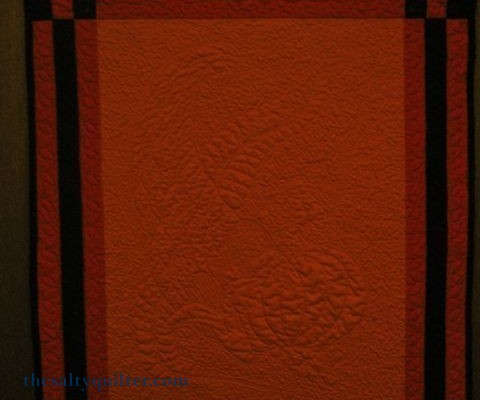 General Info
Start Date
 

May 1, 2011

Finish Date
 

May 16, 2011

Status
 Finished
Size
 24″ x 20″
Pattern
 My own design
What it's for
 For me.
Batting
 Matilda's Own 100% cotton batting.
Quilt Top Notes/Techniques
Wholecloth plus borders.
Quilting Notes/Techniques
Quilting design based off my own drawing. Machine quilted with Gutterman cotton 50wt thread in matching colors. Used pre-washed homespun and cotton batting, but still got quite a bit of shrinkage after washing. Stippling was too big to contrast with the rest of the design. Still like it though and put it up  for Halloween.
Progress Pictures