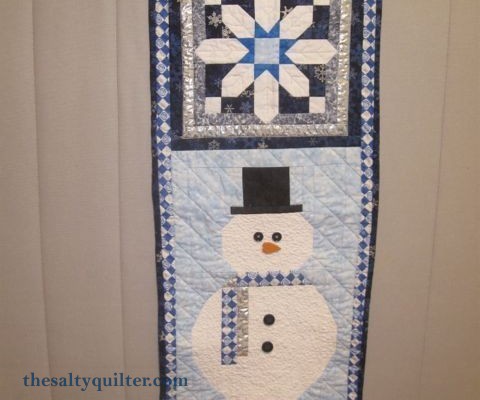 General Info
Start Date
 

Aug 21, 2010

Finish Date
 

Jan 3, 2011

Status
 Finished
Size
 36″ x 12″
Pattern
 Cold Hands, Warm Heart by Pam Bono
What it's for
 Made two: one for me and one for Grandma MJ.
Batting
 Matilda's Own 100% cotton batting.
Quilt Top Notes/Techniques
Modified table runner pattern. Added an extra snowflake block and made two. Used skinny heart shaped buttons for nose.  Added star burst beads to hanging loops.
Quilting Notes/Techniques
Ditch quilted snowman body, then free motion quilted loops inside body using 50wt gutterman thread.  Probably should have done outside channel quilting first, and more densely, to help prevent distortion.  This project would have greatly benefited from trimming, but I didn't think to do it, and blocking, which I didn't know about then.  Attempted to use silver metallic thread in snowflake, but kept shredding.  Need to use larger topstitch needle next time.
Progress Pictures