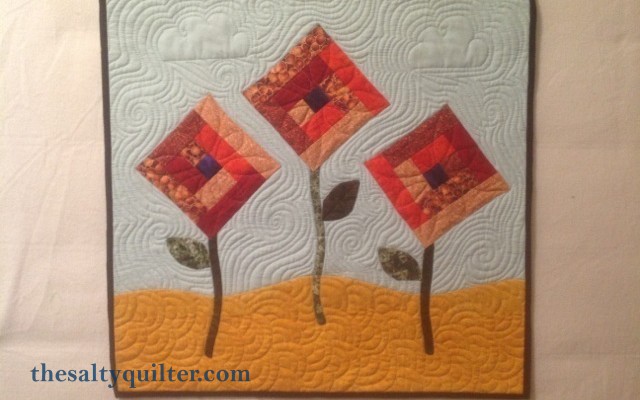 General Info
Start Date
 

Apr 7, 2013

Finish Date
 

Apr 24, 2013

Status
 Finished
Size
 Wall Hanging
Pattern
 My own design
What it's for
 Hobbysew Belconnen "Autumn in our Town" challenge. Given to my BFF who loves orange
Batting
 Cotton.
Quilt Top Notes/Techniques
I designed and made this for the Hobbysew Belconnen "Autumn in our Town" challenge. All the fabrics except the light blue background were in the fabric challenge pack.
I had seen a pieced quilt that used on point log cabins as flowers, so I used a similar idea, but with applique. I used a small zig zag with invisible thread to attach the log cabin blocks and leaves. I used fusible web and blanket stitch applique for the ground and stems.
Quilting Notes/Techniques
After taking Helen Godden's intermediate free motion quilting class, I wanted to push myself with the quality and design of the FMQ. The sky is based on Leah Day's ocean currents design, and the ground is based on Helen's baptist fan design. I put clouds in the negative space as another design element.
One issue I had was I pieced batting together using a zig zag stitch, which was visible through the top. Next time need to try a herringbone stitch as suggested by Harriet Hargrave.
Progress Pictures